Greetings, and welcome the 

Summer Edition of the Woodhaven History Digest

. Click here if you are having trouble viewing this email! We're going to start by thanking everyone who came out to our big party / fundraiser at the Forest Park Carousel. To thank the Forest Park Carousel for their generosity, the Woodhaven Cultural & Historical Society presented the Carousel with a mosaic that we created, a picture of the Forest Park Carousel made up from three thousand smaller pictures of the carousel! This was printed on metal, so it will hopefully last a long time - you can see it hanging inside the snack bar at the Forest Park Carousel!  If you have not visited the Carousel this year, check it out! It's growing every year - check out their website. PS Did you hear that a wedding was held there last week? We heard it was a beautiful event - we'll share pictures as soon as they are posted! But it goes to show that our Carousel can be suitable for any number of occasions!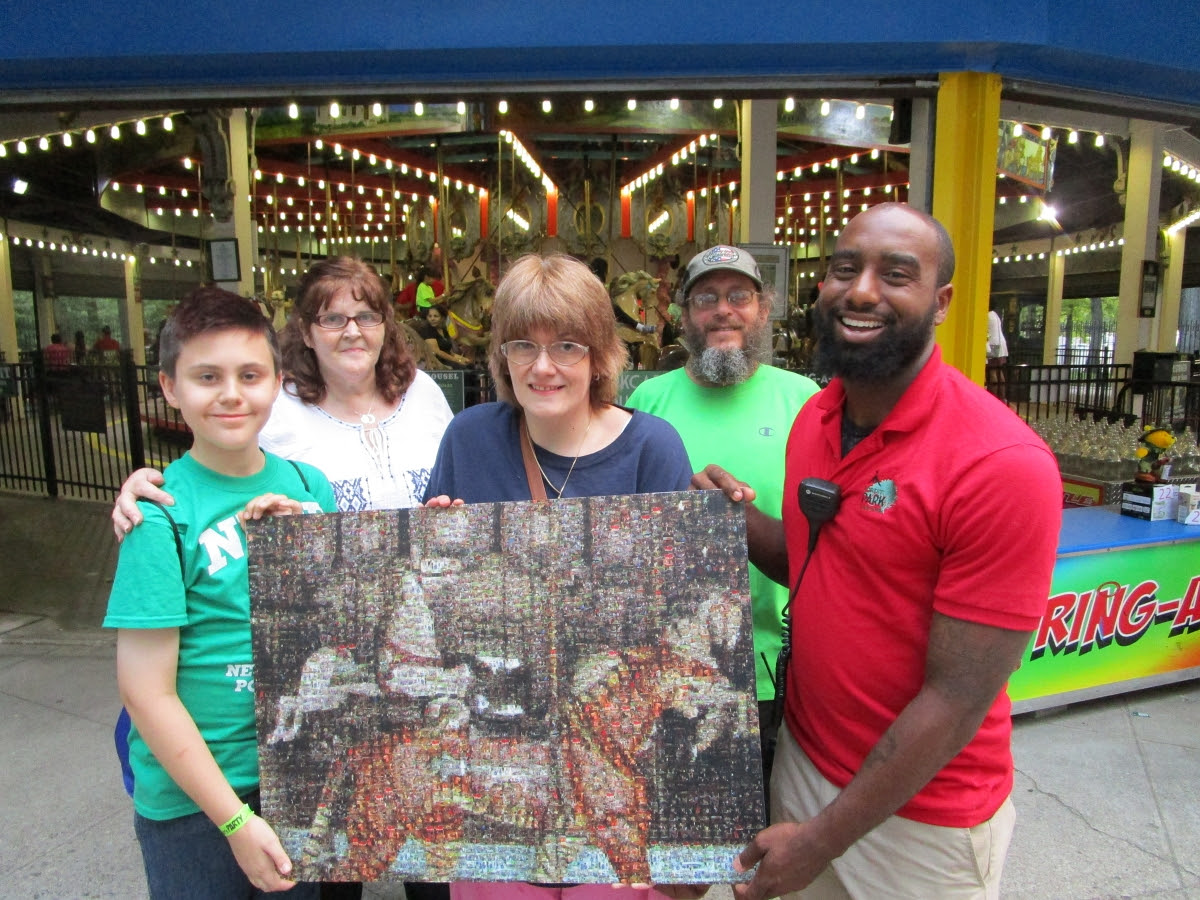 WCHS (Not So) Quiet for the Summer (Big News!) 
The Woodhaven Cultural & Historical Society will be quiet this summer - we do not meet in July or August. But we will be back to our regular schedule come September - the 1st Tuesday Night of every month at 7 p.m. at the Avenue Diner (91-06 Jamaica Avenue) and the last Wednesday of every month at 1 p.m. at Emanuel United Church of Christ (91st Avenue and Woodhaven Boulevard).

 

But that does not mean we are completely quiet! We have been busy at the Wyckoff-Snedicker Family Cemetery, continuing the ongoing cleanup. This past weekend we concentrated our efforts on one corner, removing years worth of leaves and rubbish, turning over the dirt, and planting grass - we hope to see some green there by next month! Here's a Before and After picture:


Our next cleanup has been rescheduled to Saturday, August 19th, from 11 a.m. to 2 p.m. We are going to continue working on the perimeter of the cemetery and could use a few extra hands raking and lifting up old leaves. Come out and be a part of the most interesting ongoing Woodhaven Historical project there is.
Besides that, we have 2 fun FREE events scheduled for this summer, being announced here for the very first time - 

SAVE THE DATES

.
Union Course Racetrack Walking Tour - On Saturday August 5th at 12 Noon, the Woodhaven Cultural & Historical Society will give as FREE walking tour around the perimeter of the old Union Course Racetrack. Come walk in the streets of old Unionville as we show you the old hotels and other notable locations in and around the footprint of the old famous racetrack. Come see the last remaining traces of the old Union Course racetrack, still in existence today!  Distance - 1.5 to 1.75 miles. The tour starts and ends at Neir's Tavern (87-48 78th St, Woodhaven, NY 11421) and will not only cover the history of the racetrack, but will cover other historic and notable locations from the 20th Century. 


Woodhaven's Blue Hawaii Party

 - It was 40 years ago this month that we lost The King. To mark this occasion we are hosting a 

Woodhaven Blue Hawaii Party

 - Monday, August 28th - with classic Rock and Roll Music, Trivia, and a showing of the Elvis Classic on our BIG SCREEN. We'll have a snack bar with hot dogs and popcorn. Dress up in your finest Elvis or Hawaiian Shirts for a chance at the Best Dressed Prize! Leis will be given to everyone. This party will take place at the Beach on the 2nd Floor of Emanuel United Church of Christ at the corner of 91st Avenue and Woodhaven Boulevard. Doors open at 6 p.m., the movie starts around 7:30 p.m. Attendance is FREE.



Voices of Woodhaven 
We are in the early stages of collecting and recording 

Oral Histories of Woodhaven

 residents past and present. The idea is that 100 years from now, future historians will be able to hear about the early days of our community in the voices of the people who lived it. We will be making these recordings publicly available - and also donating them to the Queens Library for permanent storage (as part of their Queens Memory project). If you are interested in participating (and we know you are), get in touch with us. And to help you get the memory juices flowing, we have created this worksheet. You don't have to put any answers in writing - this worksheet is just to help you think a bit about what you want to talk about before we meet. And interviews are conducted over the phone, so it's very easy and convenient!
A Sampling of Local Summer Events!

Free Concerts in the Park!

 Here is the schedule of free concerts/movies at the Seuffert Bandshell in Forest Park:

Thursday July 13th - Nikki Torres & Rhythm Machine Band (7:30 p.m.)

Thursday July 20th - That 70s Project (7:30 p.m.)

Thursday July 27th - Rock and Soul Tour (7:30 p.m.)

Monday July 31st - Movie Night: Ella Enchanted (7:30 p.m.)

Thursday August 3rd - Journey Tribute (7:30 p.m.)

Thursday August 10th - Salute to the Rat Pack (7:30 p.m.)

Monday August 14th - Movie Night: Zootopia (7:30 p.m.)

Monday August 28th - Movie Night: Jungle Book (7:30 p.m.)

And you can also visit the following free shows as part of the Juniper Valley Park Concert Series at Juniper Boulevard North and 80th Street in Middle Village. All shows start at 7 p.m. For these, you must bring your own lawn chair:

Tuesday July 18 - Totally 80's

Tuesday July 25 - Italian Heritage Night

Tuesday August 1 - Classic Rock Night

Tuesday August 8 - Tie Dye Tuesday




St. Thomas the Apostle Rummage Sale

 - The St. Thomas Rummage Sale will be open on Saturday and Sunday the next two weekends (July 15 and 16 and July 22 and 23) from 10 a.m. through 4 p.m.And if you would like to donate used items to the sale, you can drop them off Monday through Thursday (10 a.m. to 3 p.m. and 6 to 8 p.m.) They will not be taking any donations after July 20. Click here to read more about this annual event in Woodhaven.



Free Historical Documentary

 - The Forest Park Jewish Center is hosting a showing of Altalena, a documentary that examines the 1948 episode of the Altalena, a ship whose fate nearly incited civil war in the newly-established State of Israel. Sunday, July 16th, at 1:00PM at 90-45 Myrtle Avenue, Glendale (across from Victory Field).



Beauty and the Beast 

- Movie Night at Grover Cleveland Park in Ridgewood on Saturday, July 15th. The movie starts at 8:30 pm. The Play Mobile will also be at the park between 11 am and 5 pm. Click here for more information.

Meet the Animals of the Alley Pond Environmental Center - 

Saturday, July 15th

 2 p.m. until 3:30. Join this free workshop and meet various animals from APEC. Learn about their habitats and how they live in nature -  hands on activities! Located at Maple Grove Cemetery (127-15 Kew Gardens Road, Kew Gardens, NY 11415) by the Maple Grove Pond. In case of inclement weather the workshop will move inside the Center. Free parking and handicapped accessible. For more information please call (347) 878 6614.



Outdoor Movie Nights at All Saint's Woodhaven

 - All Saint's Church (96th Street and 86th Avenue) has a nice schedule of outdoor movies for the summer. Please note that these movies are rain or shine - if the weather is bad, the movie will be moved into the Parish Hall. Food and refreshments are served at these film events. The schedule is as follows: July 25th - Moana, August 1st - The Chronicles of Narnia: Prince Caspian, August 15th - Finding Dory, August 29th - High School Musical. All films begin at approximately 8 pm (as soon as it is dark enough to see the film). Call (718) 849-2352 for more information.



Annual Blood Drive at Emanuel United

 - The 11th Annual Warren Ackermann Memorial Blood Drive will be held on Saturday, July 22nd from 9 a.m. until 2:45 p.m. at Emanuel (91st Avenue and Woodhaven Boulevard). To make an appointment, please contact Dolores Rosato at 718-847-1694.


Richmond Hill Book Sale - The Church of the Resurrection (85-09 118th Street) will be hosting a book sale (plus DVDs, VCR Tapes and more) on Saturday July 29th from 9:30 a.m. to 3:30 p.m. Call 718-847-2649 for more information.
Free Queens Symphony Outdoor Concert - 

The 19th Annual Great Lawn Summer Concert (A Midsummer's Enchanted Evening) featuring the Queens Symphony Orchestra, will take place 

Wednesday, August 2

, at 7 p.m. St. John's University, Great Lawn FREE Admission and Parking. Enjoy an evening of enchanting arias and songs plus the lush and romantic Symphony No. 5 by Tchaikovsky. For more information, please contact the Office of Community Relations at 718-990-5892 or communityrelations@stjohns.edu.



Maple Grove Film Debut 

- The Friends of Maple Grove Cemetery are premiering a documentary by Utsab Giri, (Life, Death & Maple Grove) on 

Saturday, August 5

 at the Kew Gardens Cinema.   It is in the time slot from 1 to 3 PM (Block 1, Shorts featuring Kew Gardens and NYC). Click here for more info. Join the Friends of Maple Grove Cemetery at the Festival on opening night at Austin Ale House!  

Women's Self-Defense Class

 - There is a self-defense class for women scheduled for Saturday, August 26th from Noon until 3 p.m. sponsored by Grace Baptist Church. The class will take place in the upstairs hall at 

Emanuel (91st Avenue and Woodhaven Boulevard). Call 

(646) 208-1651

 if you have questions.

 

The Woodhaven History Library Corner

:
Feel like reading up on some Woodhaven History? Here are 2 articles of Woodhaven History:

Woodhaven's Deadly Storm - 122 Years Ago Today

 - 

Click here to read about

 the destructive storm that hit Woodhaven on July 13th, 1895, destroying property, demolishing a school and killing 2 residents.


Keep an eye on this spot as our Library Grows! Here are our past entries:
That's it for now - but we will leave you with one last thought.... we are currently working on The Museum of Woodhaven History *and* a brand new Woodhaven History Book. If you have any interesting photos squirreled away that you think would be of interest to either project, please get in touch with us! In the meantime, click here for a little teaser video we produced about the Museum!



The Woodhaven Cultural & Historical Society
Check us out on:
Facebook
Twitter
BlogTalkRadio - Live Every Friday Night at 10 PM - Returns in September!

--